Stevie's Story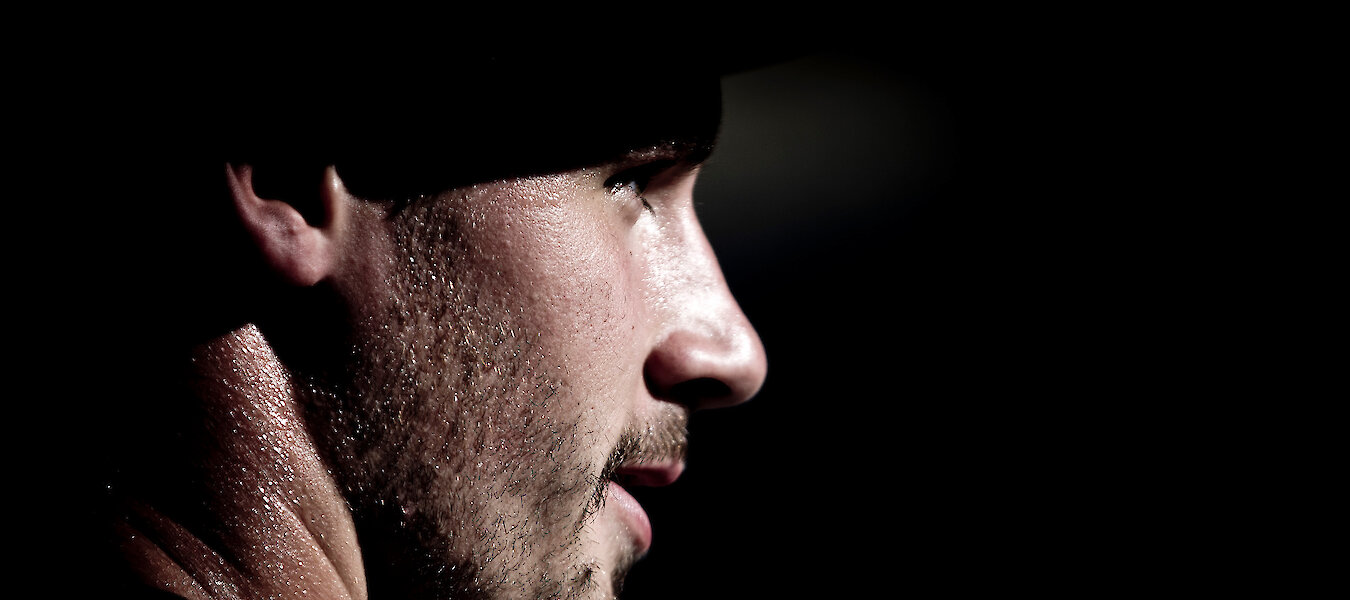 Raised in the small town of Cassidy, British Columbia, Stevie spent several years competing at the BMX track. By the time he was 13, he was winning nearly every race, and it wasn't long before he shifted his focus to a new challenge; mountain biking. With the downhill tracks of Vancouver Island's Mt. Prevost in his backyard, Stevie quickly honed the skills that brought impressive race results early in his career. The signature loose riding style he developed on the steep technical terrain would earn him the nickname The Canadian Chainsaw Massacre.
Only 15 when included in the 2004 mountain bike movie, Seasons, Stevie's iconic section garnered much attention and admiration. So did his mom, Tianna Smith, for her role shuttling him up the mountain. "Every time I take him up there, it's the one ride closer to getting what he wants, to what he's aiming for. To me, that's what mom's do," says Tianna in the film. "He's got big aims he's going for. He wants number one in the world, who knows?"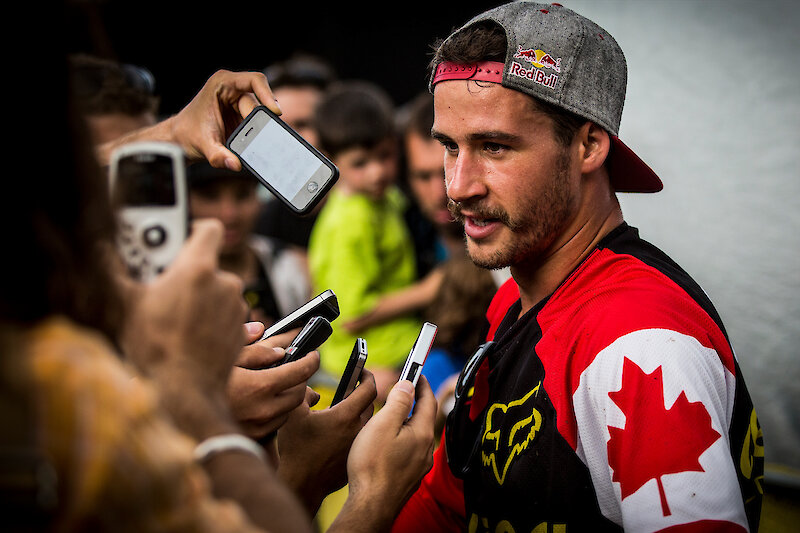 Over the next several years, Stevie would relentlessly pursue that goal, appearing in more movies and collecting plenty of accolades. In 2012, after winning Canadian National Championships and being crowned King of Crankworx, he headed to the season closer World Cup race in Hafjell, Norway. It was there on a sloppy, mud-filled, and rain-drenched track that Stevie leaned deep into his West Coast roots to take the top step. Canadians everywhere were on their feet as commentator Rob Warner shouted, "He looks great, Stevie Smith sprinting towards the line for his first-ever world cup win. It's been a long time coming!" Stevie had become the first Canadian in more than two decades to win on this world stage.
The very next season, he achieved his goal. Winning in Mont-Sainte-Anne, Quebec, and Norway, Stevie was still trailing in points when he left the start gate in Austria. With a flawless, jaw-dropping run, he crossed the finish line to become the first Canadian to earn the World Cup Overall title.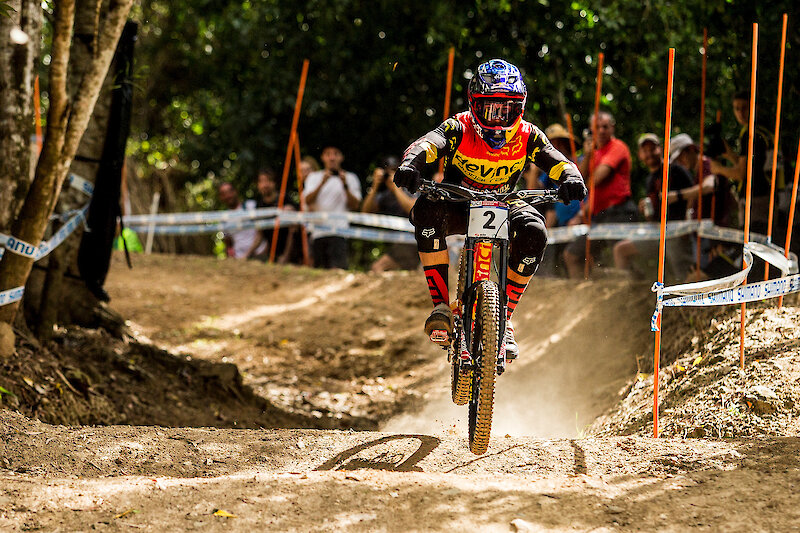 Recurring injuries sidelined Stevie for the 2014 and 2015 race seasons. He struggled with being off the bike and away from the career he loved so much. But he enjoyed spending his downtime fishing, camping, and exploring all that his Vancouver Island home had to offer.
The off-the-bike time appeared to be productive as Stevie came back to the World Cup scene in 2016 and took second place at the opener in Lourdes, France. His community of international fans cheered his return as he crossed the finish line. While Stevie pumped his fist triumphantly in the air, Rob Warner echoed everyone's thoughts, "you have to say, it's great to see him back at the sharp end!"
Shortly after returning from France, Stevie tragically passed away from injuries sustained in an enduro motorcycle accident.
No matter what he won or how much recognition he gained, Stevie remained an incredibly humble and approachable human being. His genuine personality, mischievous grin (and mustache), and wildly exciting style of riding captivated fans. He proved that Canadians could participate at the sport's highest level, and he continues to be a source of inspiration for young riders today.
The Stevie Smith Legacy Foundation is honoured to support and nurture the next generation of elite Canadian gravity racers in his name.


ACHIEVEMENTS
2016 UCi World Cup Lourdes, France - 2nd
2014 Canadian National Champion
2013 UCI World Cup Leogang, Austria - 1st
2013 UCI World Cup Hafjell, Norway - 1st
2013 UCI World Cup MSA, Canada - 1st
2013 UCI World Cup Val Di Sole, Italy - 2nd
2013 UCI World Cup Fort William UK - 3rd
2013 Canadian National Champion
2012 UCI World Cup Hafjell, Norway - 1st
2012 Canadian National Champion
2012 World Championships Leogang, Austria - 3rd
2012 Canadian Open Whistler, BC - 1st
2012 Air DH Crankworx Whistler - 1st
2012 Garbanzo DH Crankworx Whistler - 1st
2012 UCI World Cup Windham, NY - 2nd
2011 Canadian Open Whistler, BC - 1st
2011 Canadian National Champion
2011 US Open of Mountain Biking - 2nd
2010 UCI World Championships MSA, Canada - 2nd
2008 US Open of Mountain Biking - 1st
2007 UC Open of Mountain Biking - 2nd